Apple tarte tatin, lamb stew and stuffed peppers
October 12, 2010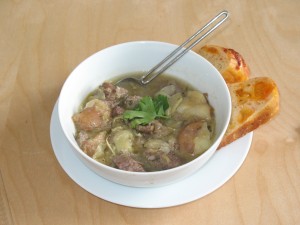 [caption id="attachment_892" align="alignleft" width="300" caption="Lamb stew with some leeks, potatoes and Trader Joe's jalapeno bread. Not at all seasonal!"][/caption]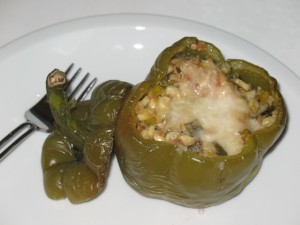 [caption id="attachment_893" align="alignleft" width="300" caption="This pepper is stuffed with cheese, corn, scallions and tomatoes."][/caption]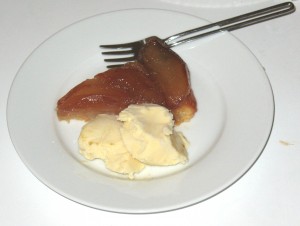 [caption id="attachment_894" align="alignleft" width="300" caption="Tarte tatin with some homemade vanilla ice cream."][/caption]
This entry is about a meal that I made in September, but didn't get around to writing about, until now. Basically I wanted to take another shot at a tarte tatin, and I thought it might be interesting to try a lamb stew as well. (The stuffed peppers were an easy addition).
The tarte tatin came out really well. I still had to do the dangerous work of inverting a 400-degree pan, but I solved some of the problems I faced last time (the dough melting over the hot apples before I could get it back in the oven). For some reason, the recipe suggests putting a glaze on the top of the dough after it's placed over the apples. I'm not sure why this is, since you don't see the bottom at all after it's gone in the oven.
I had never made a whole bunch of stew, and then frozen it, and eaten it later, but now I understand why people do this! It was hearty and went well with some jalapeno-cheese bread that we bought at TJ's, and we've been eating it from time to time ever since. Stuffed peppers are, well, stuffed peppers, I've written about them a few times before.