Beet salad, fried Chicken etc., polenta cake
April 6, 2010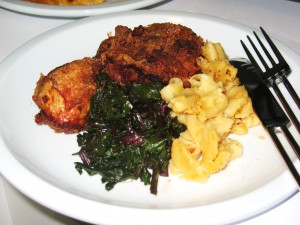 [caption id="attachment_433" align="alignleft" width="300" caption="The main course."][/caption]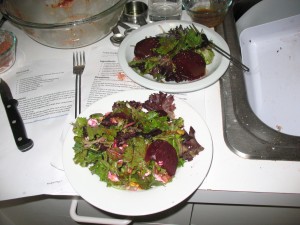 [caption id="attachment_432" align="alignleft" width="300" caption="Beet salad."][/caption]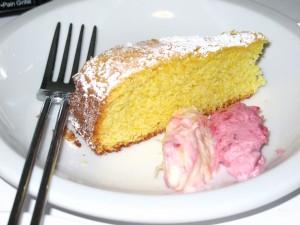 [caption id="attachment_434" align="alignleft" width="300" caption="Polenta cake, with raspberry and grapefruit mousses."][/caption]
Last week I made my first three-course meal in a while. First course: Beet salad with candied walnuts and goat cheese. Second course: Fried chicken with macaroni and cheese and beet greens. Third course: Polenta cake.
The beet salad was great. Building on my lessons with canned beets, I bought fresh beets and roasted them myself. The orange juice concentrate in the dressing really does give it a great, syrupy flavor.
Actual beets also often come with free beet greens, which I steamed and then sauteed until they were almost distintegrated. Pretty good.
The polenta cake was in some ways the highlight of the meal. I served it along with some of the mousses I made. Polenta and olive oil are major components of the dish, which results in an extremely moist cake that also has a difficult-to-identify, but wonderful, almost flowery aroma.