Building Kitify, my first modern web app (in Rails), Part 2
August 5, 2012
This entry is the second in a series about Kitify, a web app I built that was intended to let DIY project creators easily sell kits for their projects. You can see all the published entries by clicking here.
The first thing I did when starting to work on Kitify was (attempt to) validate the idea. There's a lesson in this very process, which is that in retrospect I would have worked on Kitify no matter what the results had been, thus largely defeating the purpose of doing the experiments and surveys! Nevertheless, I'll talk about what I did, and how, here.
Concept statement
The concept statement is a great tool that lets you succinctly , yet thoroughly, summarize a business idea, how much value it will create and for who, how much of that value you expect to keep and how, and why it will survive competition. The elements are (a) name, target customers, benefits, product form, and price, and (b) differentiating attributes and how they will be achieved, and © cost. Here's the product statement for Kitify:
Kitify makes it easy and fun for do-it-yourself project creators to document, share and sell kits for their projects, via web-based "kit creation software" and a backend logistics network for selling complete kits when requested, at a price of 90% of kit revenue. Kitify will be differentiated from Instructables, MakerShed and other kit sharing and selling sites by integrating project creation software with the business and operational capabilities necessary to sell products. This will be achieved through modern web development frameworks that allow complex web applications to be built reliably and quickly, and backend software built to make pass-through ordering and processing quick for Kitify. The approximate cost to deliver the kit-packaging service will be half of kit revenue, and a relatively small amount per month for providing the kit creation software.
Surveys and primary research
After informally talking about the idea with some friends, and also getting some feedback based on an informal video describing the idea, I ran some surveys on Amazon Mechanical Turk. Mechanical Turk is great for this – it's cheap, it lets you build surveys quickly, and a reasonably broad segment of the American population is available for surveying. (Note that while this is true in general, the Mechanical Turk respondent population is skewed toward lower-income participants, which means that while you can get some participants from most demographic segments, you'll need to pay extra to run enough surveys such that they participate.)
I ran a few surveys, mostly concentrating on how much markup people would expect over the parts cost of a kit, and what sorts of problems they faced in building projects in the first place. I also asked a lot of questions about do-it-yourself habits. One of the problems with the Kitify idea in general is that a lot of people who are interested in doing do-it-yourself projects are doing it to save money – which Kitify's business model doesn't help with.
Of those respondents who had completed do-it-yourself projects, about 70%, home improvement and construction projects were the most popular. These would also be the hardest for Kitify to deal with, unless we teamed up with Home Depot or some other large retailer that could take care of the shipping and logistics for us (potentially an interesting future idea).
I asked a lot of questions about specific experiences with projects, as well. One of the things I was most interested in was why people did do-it-yourself projects, and what problems they were facing. These would be important in figuring out whether there was a problem for Kitify to solve. I phrased these questions as assessments of respondents' agreement or disagreement with particular statements. For example, I might ask whether participants did DIY projects to save money, or whether they did them for fun.
[caption id="attachment_2056" align="alignleft" width="481" caption="A chart showing the various problems people have had with do-it-yourself projects."]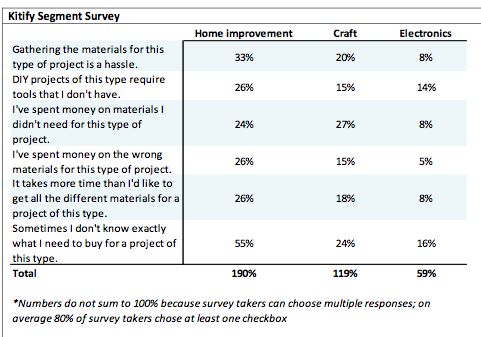 [/caption]
Here's a summary, but interestingly, most participants did experience problems or worry about completing projects, but tended to complete them anyway. Participants did not seem to have problems actually tracking down parts, also. You can also view the full survey results, and download them, here.
Pitch decks
Since I happened to be taking an entrepreneurship class at the time I was developing Kitify, and since I ended up raising a (very small) amount of seed funding, I ended up writing a couple of pitch decks as well. The video here is my one-minute pitch presentation, which I used to assess initial interest in the idea.
There's a lot of advice on writing pitch decks on Google and the various hacker blogs, so I won't reiterate any of that here. I ended up focusing on the basics of the idea: the size of the market, why and how much customers would be willing to pay, and how we'd expect it to work. I'm good at presenting ideas and convincing people, so this was a fun exercise, though not at all helpful from the perspective of launching the business. I think the most amusing part was coming up with a set of financial projections.