Osso buco
March 26, 2012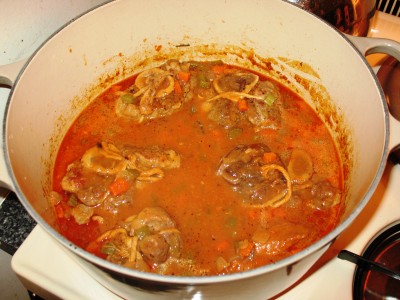 [caption id="attachment_1883" align="alignleft" width="400" caption="The dish just before being served. It's braising in a Dutch oven."][/caption]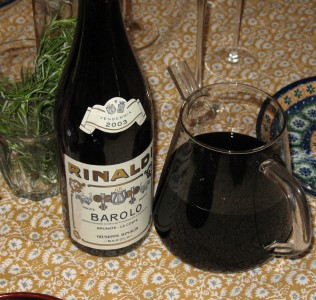 [caption id="attachment_1884" align="alignleft" width="316" caption="The Barolo that we drank with the dish. Great pairing. Particularly full body."][/caption]
Here's a great osso buco I made for some friends last fall. The context for this meal was that for our wedding, we asked friends to buy bottles of wine for us instead of wedding presents. When possible, we tried to share those bottles with the purchasers, and maybe even cook for them.
Frequent readers of this blog (or eaters of my cooking) will know that I have a strong inclination toward braised dishes, especially coq au vin, which resembles osso buco in the cooking. Osso buco is one of these, but it has some  twists that I hadn't experienced before: the use of a bouquet garni, the presence of veal, which I've never cooked with before, and, finally you get lucky because your guests get to enjoy the veal marrow after they've finished the main dish. For some reason you get credit for this as the cook.
I've always been a little intimidated by osso buco, just because I didn't know how similar the techniques for it were to other dishes I've made. Though the sauce was a little watery - I should have spent more time reducing it - it generally came out great. Braised dishes are difficult to screw up, so that wasn't too surprising.
I served it with a side of cheesy polenta and baked asparagus. The Barolo that went with it stood up well to the rich flavors of the dish; Barolo and osso buco is a pretty typical pairing in the US.