Tuna, beans and rice, and cilantro salad
August 20, 2010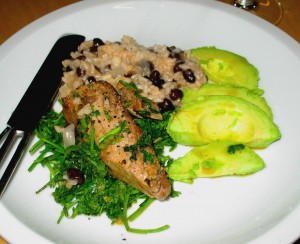 [caption id="attachment_872" align="alignleft" width="300" caption="The completed dish."][/caption]
This seared tuna and cilantro salad recipe is delicious and not too difficult to make.
Not that I had ever heard of a cilantro salad before. It is what it sounds like, which I suppose would be difficult for those for whom cilantro tastes like soap. I served the tuna and salad with with some rice and beans cooked in vegetable stock and a little onion and garlic, and an avocado. The flavors - lime, ginger, soy sauce, cilantro, tuna, avocado, rice, beans - mix really well together.
The recipe calls for sushi-grade tuna, which I'm not sure is strictly necessary.  Yes, the inside of properly-seared tuna is essentially raw. But I'm not sure that should be a problem for most people. Plus, and I know this from personal experience, sushi-grade tuna is extremely expensive and can be difficult to get in filet form.
I learned a couple other things that I'll note here. You can't sear with olive oil (I think I may have mentioned this before). Its smoke point is too low, so it smokes pretty much as soon as you get to searing temperature. I also forgot to season the tuna with salt and pepper before searing, which was a shame; it's important to have that seasoning for flavor as well as texture.
Still came out great, though.