Banana cardamom ice cream with peanut brittle and raspberries
June 6, 2011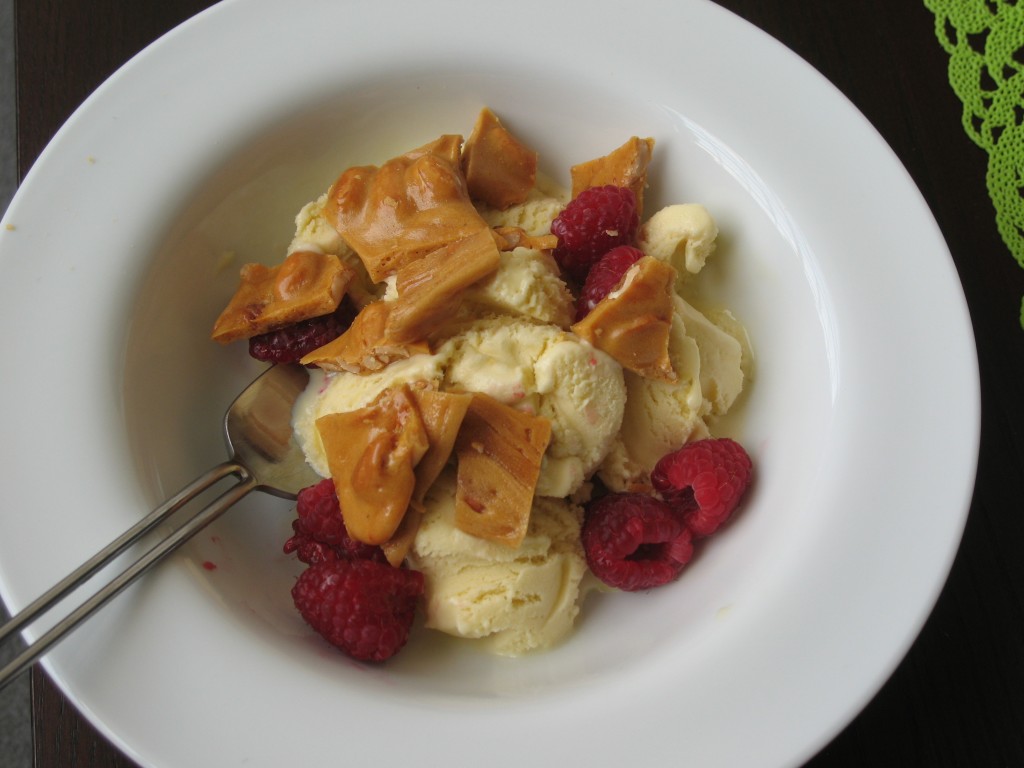 [caption id="attachment_1076" align="alignleft" width="400" caption="Ice cream!"][/caption]
I've written about this ice cream briefly before, and here's the recipe. You start by crushing and toasting some cardamom pods, then steeping the cardamom - and banana slices - in milk for a while. After that's chilled, you add raw (yes, raw!) egg yolks and honey, and put in your ice cream machine. I'm actually not a big cardamom fan, but the result is an ice cream that's refreshing and sweet but also strangely earthly. The pale yellow color is beautiful also.
This time, I was looking for a way to dress up the presentation a bit, and I thought, how about ice cream sandwiches? And then I thought, really, peanut butter and banana is a classic combination, and one of Elvis' favorites to boot.
And, I have been looking for an excuse to make some of the sugar-based confections that I wrote about in this recent entry about the molecular mechanics of sugar. So how about peanut brittle? (I used this recipe, which gives a buttery, salty and sweet peanut brittle that's difficult to stop eating and that we contemplated using as a breakfast cereal). After I poured the peanut brittle, I used a cookie cutter to cut rounds in it as it melted so that I'd be able to build the sandwich.
As you can tell from the picture above, the "sandwich" concept was a failure - the ice cream melted too fast, and I didn't have the patience to figure it out. Too much salt, perhaps? But everything tasted great in a giant bowl with some raspberries that added a jammy tartness to the dish.